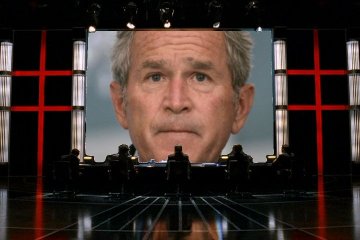 One of my more regular reads, more reliable in fact than any newspaper, radio or TV show, is BoingBoing. If this were my only source of news, odd opinions on world politics would come with the territory. Since I do absorb data from a few other places, it came as an enormous surprise to me to read another article about some poor schmuck being arrested for having a sense of humour, and to find that it was not news! Why? Because everything I have heard and seen about the USA in the past seven years has lead me to expect that America will eventually turn into Alan Moore's Britain.
Now, when I hear that the American government is openly admitting that it maintains massive detention-without-trial facilities all over the world for the purpose of torturing anyone it damn well pleases, I nod in faint disgust, but somehow I am completely unsurprised.
Thus it is that I am forced to admit: I started thinking of the USA as a fascist police state some time ago. Not just in the paranoid trend-conscious sense, either. At some point in the past seven years, the vague bemused feeling that followed me to California when I travelled for work; that feeling that maybe I should have farewelled my loved ones, that I should be careful who I talked to in the USA, and what I talked about, has gone from being a joke to being a basic fact, something I take for granted.
I am no seer, no more able than the next person to forsee what is actually coming, so I won't try. I am scared though: I see nothing to stop this juggernaut, and it is bigger than the puny little country I live in.
At least, I console myself, we don't have any significant amount of oil.
Uranium, on the other hand… 🙁