E bought me a toy. 🙂
I told her about my oldest obsession, my first obsession, and she fulfilled it to the greatest extent physically possible: She got me The 8421.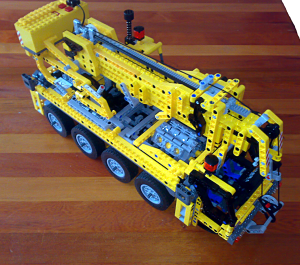 This thing is like the god of lego sets. Sure, you can spend more on Mindstorms if you want the ultimate in sophisticated geekery, and there are doubtless exotic and ancient themed lego kits out there worth much, much more to collectors. I don't care.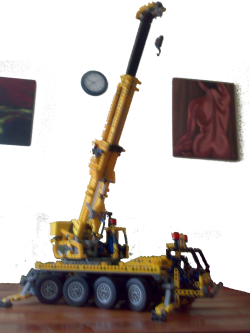 There's no lego quite as powerful and awesome as real Technic, and as far as real Technic goes, this is it, the larget, most sophisticated (heaviest!) lego kit there is now, or ever was.
It:
Has pseudo hydraulics (pneumatics).
Has one of the new 9v electric motors.
Has the complete six-cylinder piston-engine block.
Has a working differential.
Has proportional eight-wheel steering.
Has two independent safety-clutches.
Took me about twelve hours to build.
Weighs about three kilos.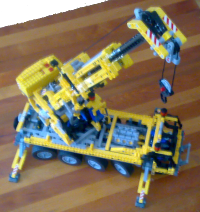 It's a kind of Lego nirvana. 🙂 Thank you love!